When your favourite trail needs a little TLC...
Article updated & adapted from a post I originally wrote for the NSMBA: How to Help a Trail Builder (August 2016)
It's hero dirt time of year and you're out for a lap on your local favourite and you think it could use some work. Maybe it needs more flow or there's an old rotten skinny you'd like to rebuild. Perhaps there's some rocks getting in your way or you want to add a jump just there to make it an even sweeter ride.
Awesome! You want to give back. And you're keen to throw some dirt, haul rocks, or get creative with some cedar… even better!
But first, before you head out with your shovel and rake, know this:
Your favourite trail most likely has dedicated builders who are permitted to maintain it and work year round to keep it running well.(1) These passionate people probably have plans for work they want to do.(2) And chances are, they've also been working on the trail for a few years. Most builders are stoked to have help, so don't hesitate to reach out! But please don't just "dig in" on your own. Regardless of permits, it's disrespectful to those that are already taking care of the trail.
Digger's been looking after Ladies Only for 27 years.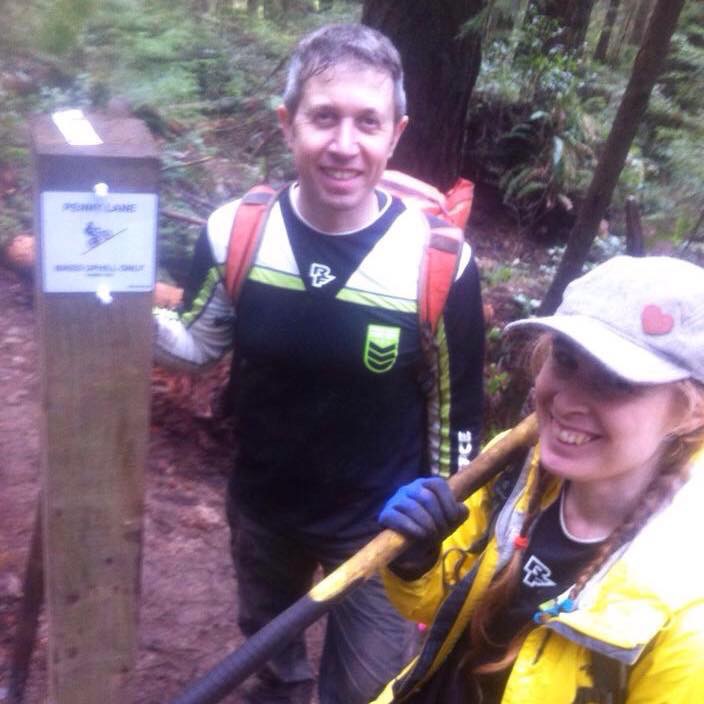 Martin and I have been taking care of Severed for 7 years, & it's now been 4 years since we finished building Pussyfoot, Penny Lane, & Good Sir Martin on Seymour.
Recently, several local trails with active builders have seen unauthorized trail work. Although these efforts may be well-intentioned, they often cause more harm than good and create more work for the authorized builders. Raking in a short cut (braiding the trail) to make your ride smoother and faster increases the trail's footprint and risks damage to the environment. It can also contribute to increased erosion and may increase the potential for user conflict. Putting mineral soil (aka "gold") on top of a mud hole without digging out the mud first doesn't solve the original drainage problem and the spot will still be a mucky mess when the rains return. Placing loose rocks at the bottom of a steep roll may help smooth a perceived abrupt transition, but loose rocks that can slide under a rider create a potential hazard.
Here on the North Shore, we're very lucky to have world renowned mountain bike trails in our backyard and even luckier to have enthusiastic trail builders that put their sweat and soul into caring for them. Every trail is a physical work of art, a carefully crafted vision of singletrack twisting through the forest. With 315 trails covering 253 km, that's a lot of work to maintain – whether it's clearing drains, fixing the trail surface, re-building rotting woodwork, or re-routing to create a more sustainable line. Trail maintenance is back-breaking labour and most builders are happy to accept offers of help. If you see your favourite builder hard at work while out on a ride, take a quick stop to dig a few buckets of dirt, clear a drain, rake some loose stones, or help maneuver a large rock into place. It'll be sure to put a smile on their face.
We love the eagerness to help out and thank all those with a passion for caring for the trails. If you're looking to get dirty and give back, become a member of your local trail association and join them for a trail day. There's lots of opportunities to dig with the NSMBA. Come on out to a community trail day, take the Trail Academy and join the Shore Corps, or contact the NSMBA directly and they can put you in touch with builders that are looking for help on various projects. Or if you simply love the new work on your favourite trail and want to say thank you to the builder, check out Trailforks to find out who maintains it and share your appreciation. #wedigtheshore
Notes & References
Regardless if it is an individual or your local trail organization who looks after the trail, or if the trail is authorized or not, all of this still applies, the bottom line is the same: respect the builders.

Here on the North Shore, the Land Managers we work with require us to submit yearly trail assessments and plans with the details of all work for the upcoming year, including general maintenance, replacing or building new features, rerouting the trail, and more. These plans are then reviewed and approved by the Land Manager before the work begins. In North Vancouver, permitting systems are in place on both Fromme and Seymour for builders working on trails managed by the District of North Vancouver (DNV), Metro Vancouver, Recreation Sites & Trails BC, and BC Parks.